advertise for free
Dealers: buy and sell with better information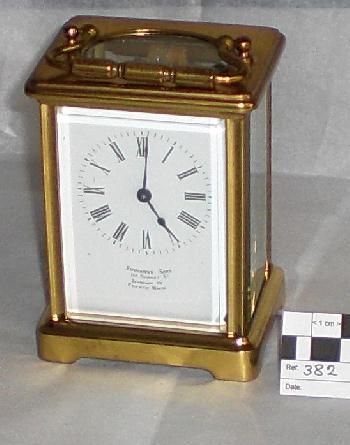 The Clock Register is a website by and for antique dealers and auctioneers. It is a world-wide database about clocks, worthy of conserving for future generations. The aim of The Clock Register is to be a trusted information source on clocks on the internet. Accessible for all, holding more details and accurate information about clocks than any other source.
We achieve this by cataloguing more than 150 items per clock. We hold that information for ever. We do this for every clock that should never be lost to humanity. By having so much detailed and relevant information about an object, we improve its chances that people will look after it better. If so, that will increase its value. By having such valuable information in a neutral, verifiable, ever-lasting place, buyers, owners, dealers, collectors and conservators all benefit.
In other words, to have a clock registered in The Clock Register will enhance its pedigree and boost its value. Today, we already have the largest searchable collection of tagged photos of clocks and clock parts on the internet.
We do what no collector, dealer or auction house can do on its own. We bring together---in one place---all clocks, regardless of who owns them or where they are. By bringing together this information, amongst others from auction houses and dealers around the world, The Clock Register is the place where clock professionals and enthusiasts gather to study clocks, view pictures, listen to their ticking, striking and chiming and buy photos of clocks and clock parts. Income from pictures of clocks is shared with the owner of the picture. So, if you provide photosets of your clocks (and you only have to do that once per clock) you position yourself to earn money for your business. Moreover, your presence on The Clock Register will drive traffic to your website and footfall to your business.
You can advertise the clocks you are selling for FREE. You can show what you are selling today or have sold in the past.
Increase the value of what you sell
The Clock Register will also tell you the pedigree of a clock, the list of previous owners and the work that has been done to the clock. So you can tell your clients. All greatly adding to your role in the sales process and also to the value of the clock you are selling.


List your clocks and their prices and they will automatically appear on our clocks for sale page. We also explain there step by step how to advertise a clock for sale for FREE.
You can search on any word or phrase, on specific fields or through thousands of photos of clocks and clock parts to find examples of just the type of clock, or clock part, you want to see. We use over 150 attributes to categorise clocks. So chances are you are going to find what you are looking for.


You can find photos of clocks you are interested in and take that clock apart into its components without ever having to lift a screwdriver. That way you can present to your clients the full picture of the clock: outside and inside. You can see who worked on a clock and when, what has been done to a clock and why, who owns it now and who owned it in the past. You can even download clockmakers-conservators' job reports. If you can show your clients what has been done to a clock in the past, they will value that enormously and come back for more.


Become an active participant
Contribute clock information and photos. By contributing clock information you gain Clock Credits ensuring your continued free access to The Clock Register. The more clocks you offer for sale, the more prominent your place on The Clock Register. Add clock photos to increase your income. And by doing all this, help create a clock information hub of growing and lasting value to us all.
The Clock Register is a FREE service for those who add clock information to it. You collect credits when you add a clock to The Clock Register. While searching and viewing the result screen of a search is free, you will lose a few Clock Credits when you open the detailed term sheet of a clock, owner or conservator. Your credit balance is always visible on screen and you can even buy credits if you so wish. If we can recognise you as a clock Expert, you will receive additional benefits.
In the unfortunate event your clock has been stolen, you can report it here to hasten its retrieval.
Earn extra Clock Credits on social media
So, join us now to become a Member, search for clocks and photos, add your own photos to earn some extra money, take the Expert test once you have become a Member, and advertise your clocks for FREE on our clock for sale page.
Tell your colleagues and friends about us by clicking one of the square social buttons on the right. To get the networking effect going, we encourage you, after you have joined us as a Member, to spread the news of your Membership. If you tweet that important event, using hashtag #theclockregister, or state it on Facebook, we'd be thrilled to award you an extra 200 Clock Credits right away.
Follow us on Facebook and Twitter via the round buttons in the top right corner.